Diverse Curated Exhibits by METRO Show Dealers
Will Entice Fair-goers with a Spectrum of Themes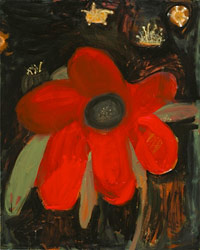 Kathryn Lynch
Full Blossom, 2013
oil on canvas, 84 x 72 inches
Michael Klein Arts
New York – When the 2014 edition of the METRO Show opens for its five-day run on Wednesday evening January 22, at the Metropolitan Pavilion, 125 West 18th Street in New York's Chelsea neighborhood, fairgoers will experience a thoroughly engaging new concept billed METRO Curates.
"This revised approach puts forth single-artist and/or focused themed presentations curated by our 35 METRO dealers who will articulate their distinct point of view through their disciplines," says Caroline Kerrigan Lerch, director of the METRO Show. With its amalgam of disciplines, The METRO Show strikes a harmonious balance of subject matter from historic to contemporary.
Here are some examples of how the dealers have embraced METRO Curates:
Employing the theme, Compelled by the Forces of Nature, Michael Klein Arts from Sharon Springs, New York presents paintings by a group of artists where nature is at the heart of their work. Says Klein, "Each of these artists connects to nature both on an emotional and intellectual level, replicating the process of growth and change, seizing the character of flowers, trees, and stone and through their own methods capturing the ephemeral qualities of water, wind or light.The artists include Frank Holliday, Robert Lobe, Kathryn Lynch, Thom Merrick, Judy Pfaff and Jane Rosen.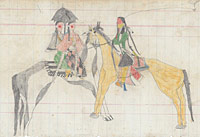 Suitor Astride a Yellow Horse Southern Cheyenne, c. 1870
The Sheridan Pages, p. 7
color and graphite pencil on ledger paper, 11.75 x 5.25
H. Malcolm Grimmer
H. Malcolm Grimmer, from Santa Fe, will present The Sheridan Pages, a wonderful group of c. 1870 Southern Cheyenne ledger drawings depicting courting scenes. This genre of drawing is a particularly popular style of ledger drawing that depicts Plains warriors attempting to woo their female counterparts. Alongside battle scenes, these pages hoped to demonstrate the virility of the male protagonists.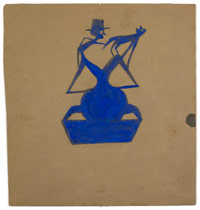 Bill Traylor (1854-1947)
Man and Cat on Organic Form
Circa 1939-1942
Poster paint and graphite on cardboard 15" x 14" unframed
Framed: 23"w x 24"h
Just Folk
Just Folk, located just outside of Santa Barbara, California, will debut 28 works by Bill Traylor (1854-1947) that have been out of public view for over 15 years. "METRO Curates provides a perfect place for us to share an in-depth look at this extraordinary artist with a new audience," says gallery owner Susan Baerwald.
Dolan/Maxwell puts their spin on surrealism with Real/Surreal. The Philadelphia gallery will mount an exhibition of star works by Modern and Contemporary artists who challenge the real by making work in which the handling of materials—paint, charcoal, collage, ink, alters the ostensible reality of the "subjects". Says Ron Rumford, gallery director, "We have chosen key works by artists to curate an installation which invites investigation and discovery." Modern artists include Stanley William Hayter, Morris Blackburn, Paul Keene, Dox Thrash, Judith Rothschild and Hans Moller. Contemporary artists are Peter Brooke, Michael Canning, Steven Ford, Liliana Porter, David Shapiro, and Donald Teskey.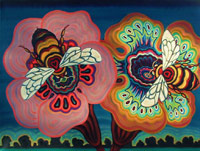 Michael Noland
The Peaceable Kingdom, (detail)
oil on canvas
22 x 42"
American Primitive
Continuing the surrealistic buzz is what the New York-based American Primitive has in mind for their Carnival of Earthly Desires. Inspired by a large stone relief sculpture he recently acquired that depicts the Garden of Eden and Lilith and the epic temptation. Further inspiration is drawn from the surreal phantasmagorical Garden of Earthly Delights painted by Hieronymus Bosch, which will be combined with the contemporary temptations offered by carnivals and sideshows. Says Arne Anton, "We will mix pieces of American Folk Art in wood, metal and stone with contemporary art, including Michael Noland's paintings of luminous flora and fauna, as well works by Terry Turrell.
Tramp Art - Layered inspirations, the art movement of the common man, 1870 – 1940 is the theme at the Manalapan, New Jersey-based Clifford A. Wallach Gallery, which will offer a wide variety of historical tramp art from artists who made art out of society's discards long before it was fashionable and their effect on the creative culture of the common man.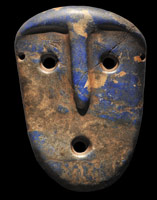 Ancestral Lapis Mask
Alamito Culture Argentina, 400BC-950AD
lapis lazuli, 5.5 x 4 x 1
William Siegal Galleries
Taking center stage at the stand of William Siegal, another Santa Fe dealer, will be one of the world's largest collections of Andean Textiles dating from 750 BC to the 19th Century. The collection has been assembled around the central theme of "ancient contemporary," thus focusing on motifs such as Geometric and Monochromatic Abstraction to illustrate the striking kinship between these ancient weavings and modern painting. Museumquality Ceremonial objects and artifacts from Meso and South America, along with Ancient Chinese, Southeast Asian, African and Indonesian pieces add to the mix.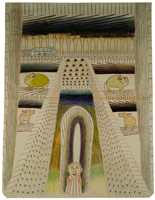 Martín Ramírez
Untitled (Courtyard with Man and Animals) detail, 1950-55
graphite, tempera and crayon on paper
47 1/2 x 36 in; 120.7 x 91.4 cm
Ricco Maresca Gallery
New York-based Ricco Maresca Gallery focuses on the concept of the cross over of Self-taught and Outsider art into the Modern and Contemporary arena. Their presentation will feature previously never exhibited works by preeminent artists who exemplify this idea, including works by iconic Outsider and Selftaught artists Martín Ramírez and Bill Traylor and contemporary self-taught artist George Widener. Anchoring their stand will be a unique vintage collection of palm prints collected between 1922 and 1926 by renowned German palmist Marianne Raschig of the hands of leading artists, actors, scientists, musicians and writers in Berlin.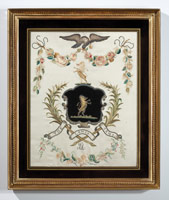 Elizabeth Lewis Cone
Outstanding Silk Embroidered Connecticut Coat of Arms by Elizabeth Lewis Cone of Hartford, circa 1800, Misses Patten School. Original frame and eglomisé glass
Framed size: 22/5 by 19 inches
M. Finkel & Daughter
Samplers and schoolgirl embroideries are the focus for M. Finkel & Daughter of Philadelphia. "When this you see remember me…" is the curated grouping which offers many praiseworthy examples, with an emphasis on the social history and specific stories of schoolgirls from the 18th and early 19th centuries. Girls from ages 8 to 15 demonstrated outstanding skill in the needle arts, and their samplers range from endearingly simple to highly developed pictorial examples. While the majority will be the excellent American samplers that Amy Finkel is known for, samplers from around the world will be included this year. Painted furniture and whimsical objects of the same period will provide context and will complement the samplers.
CONTINUES